W. M. Young
18th May 2020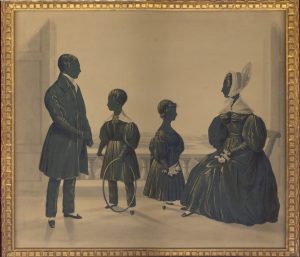 W. M. Young was first recorded as a silhouettist by Mrs Jackson in 1911 on the strength of a single signed full-length profile of a lady dated 1836. In The Art of Silhouette (1913), Desmond Coke mentions "a delicious study in dark green and white of a girl with all her dainty laces shown in touches so light … signed W.M. Young del, 1836" in the collection of Madame Dorotti of Ebury Street and speculates that it is the work of a young lady taught the art of silhouette painting at a ladies' seminary.
Regrettably this fine-sounding portrait is not illustrated and its current whereabouts are unknown. By 1978 when Sue McKechnie was researching her volume, the Mrs Jackson profile and its companion were still the only known examples of this artist's work. So the discovery of a family group dated 1835 creates an opportunity to study the artist's style in more detail.
The previous examples are reportedly painted in olive-green but this silhouette is painted using conventional black watercolour with Chinese white for the boy's collar and the mother's cap and fichu-pèlerine. It is also well embellished with gold.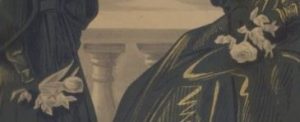 The finely painted flowers – roses and a tulip – that mother and daughter are holding may be this artist's trademark as the full-length lady illustrated by McKechnie holds a similar tulip posy. The background is painted in a watercolour wash with a river landscape view from a balustraded terrace. But it is the artist's attention to detail that makes this such a pleasing group: the accurate folds on the mother's dress and the transparency of her cap, the cute bows on the gentleman's shoes, the paint decoration on the chair rail, and the shadows cast along the floor.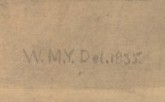 The sitters in this piece are named as Mr & Mrs William Ridgway and their son Henry. The girl is not named. Genealogical research suggests that the boy could be Henry William born to William and Caroline Ridgway in Bristol on 6 June 1829 so he would be six or seven years old here. The Bristol connection is a potential clue to where the artist was located.
It would be interesting to learn of further silhouettes by this accomplished artist.