William Angelo Grey
1st November 2020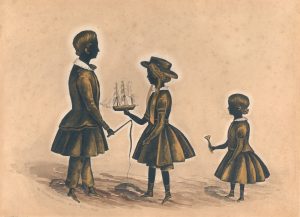 Previously unrecorded as a silhouettist or indeed as an artist, William Angelo Grey nonetheless claimed to be a Royal Academician. It looked impressive in his advertisements as did his middle name which may also have been assumed as a marketing ploy!
At the time of writing, William Angelo Grey is known from a single silhouette dated 1848 and three advertisements that appeared in Irish newspapers in Sligo and Boyle between September 1844 and March 1845.
In his adverts, Grey offered a range of artwork including highly finished oil portraits, miniatures on ivory, crayon likenesses and shades (both bronzed and plain). His prices ranged accordingly from a steep £100 to just 1s. He also offered lessons for amateurs in drawing and watercolour painting.
His Life & Work
Nothing is known of Grey's background and no genealogical records have been traced. The single known example of his work is accomplished and makes good use of props. He makes extensive use of bronzing which is neatly applied.
Should further examples of his portraiture emerge, more may yet be discovered about the mysterious William Angelo Grey.