The Mysterious B. Hunt
16th June 2023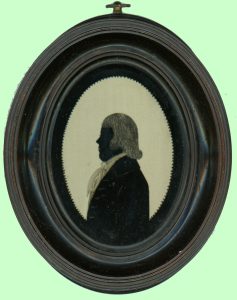 This silhouette was purchased a few years ago in the belief that it was by Jolliffe who was active during the mid to late eighteenth century and who, in addition to cutting, painted half-length profiles on flat glass. He used a needle to scratch out the sitter's hair and set the profile within a decorative border. These elements are all present in this profile.
Upon opening the frame, it therefore came as a surprise to find a torn proof sheet of a trade label for another unknown artist tucked inside as padding. That artist is the mysterious Mr B. Hunt. No record of him has been traced and yet his work is every bit as competent as the leading profilists of the day. The text of the label does not add much enlightenment –
Striking Likenesses
In Profile on Glass
By B. Hunt.
Ladies & Gentlemen
waited on by sending
their Address to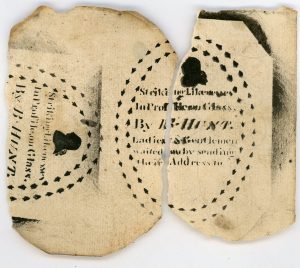 The absence of an address suggests that B. Hunt was an itinerant artist without a permanent studio.
Should any reader have come across B. Hunt as a silhouette artist or have a similar profile in their collection, do get in touch as it would be pleasing to give due credit to this hitherto unknown artist.