John Patey
26th January 2021

Between 21 April and 12 July 1786 John Patey ran 23 advertisements in the Dublin paper Saunders's News-Letter and Daily Advertiser offering "Profile Shade Likenesses in Miniature" painted on a "Composition perfectly white". He promised "animated and striking Likenesses" with a sitting time of just 3 minutes. Complete with gilt frames, he charged between 6s 6d and 7s 7d apiece. During his short stay in Dublin, Patey was, according to his adverts, based at 65 Dame Street, a four-storey red-brick townhouse on a busy thoroughfare that connected the Parliament House and the Castle.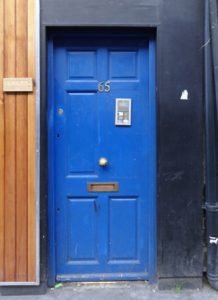 His trade label though gave his address as "Wheatley's near the Bridge, Donnybrook". Donnybrook at that time was a small village about 3 miles south of Dublin. It was also the location of an annual fair that ran for two weeks every August so perhaps Patey had a booth at the fair.
In his adverts, John Patey claimed to be from London. Curiously there is no evidence that he advertised in any of the London papers. He did though have a London trade label that until now has been mistakenly read as T. Patey and so accredited in the literature to a Thomas Patey of Argyll Street. Recent research, however, shows that Thomas Patey was a victualer (or grocer) by trade and not an artist. The label has no address so it has not been possible to trace his true details.
There are only about four confirmed examples of Patey's work each neatly painted on white plaster and with a double-loop bust-line. They are mostly presented in pressed brass oval frames. It would be of great interest to know if there are any other surviving Patey profiles.