John Church Dempsey, Street Artist
23rd September 2020
John Church Dempsey spent over twenty years as an itinerant artist starting out during the 1820s, known not only for his silhouettes but also for his fascinating character studies of the street people that he encountered on his travels. He himself came from a lowly background: his father, originally from Ireland, was in service so the family would have lived modestly. His background would have made Dempsey sympathetic to the characters he chose to portray: he befriended and painted blind beggars, match sellers, lunatics, street sweepers, bellmen, and disabled veterans amongst others. He had a raw talent for creating engaging likenesses and is unlikely to have benefitted from any formal training.
Early Life
John Church Dempsey was born on 2 May 1802 and christened at Monmouth Street Chapel in Bath. Curiously one of the ministers at the church was named 'John Church' so the child may have been named as a tribute to him. His father, Edward, was from Stradbally in Waterford (b.1756); his mother, Martha (née Payne), was from Sherborne in Dorset (b.1765). Records show that they were married in St Swithen's, Bath in 1786.
Edward & Martha later became Moravians being received into the Episcopal Church of the United Brethren in October 1798. The register shows that Martha became a communicant in March 1799, Edward five months later.
John had an older sister, Esther, born in October 1789. She too was received into the Moravian Church, taking communion 'on her sick and death-bed' just three days shy of her twenty-second birthday in 1811. Within the month she had 'happily departed'.
Marriage
John Church Dempsey married at least twice, firstly in 1819 when just seventeen. His bride, Hagar Maber, was eleven years older and may have been a family friend as, like Dempsey's mother, she grew up in Dorset.
Records show the birth of a child, Edward John, to a John Church and Sabina Elizabeth Dempsey in Bath in 1822. Given that this is within three years of Dempsey's first marriage and that no record of Hagar's death has been traced, it remains unproven this is the same 'John Church Dempsey'. The child died when he was nine years old.
Working Life
At this time Dempsey was travelling the length and breadth of the country, painting as he went. His earliest known portrait is thought to have been painted in 1820 in London. Over the next two decades he travelled extensively journeying up the east coast via Great Yarmouth, Bridlington and York, as far north as Kilmarnock, west to Manchester and Liverpool, across the sea to Ireland and south again to Portsmouth stopping at many, many places to record social history with his brush and colours.

In the 1841 Census Dempsey is listed as sharing an abode in Bristol with "Sarah Dempsey" who presumably is the same Sarah Neal Muirhead (1808/9-1901) whom he marries in May 1844. By now he is supplementing his income teaching drawing as well as dealing in artists' materials, pictures and even lamps. But he has clearly over-stretched himself as a year later he is made bankrupt. Nonetheless, Dempsey continues to be listed regularly in directories as an artist.
Dempsey rarely signed his work making attribution of his silhouettes especially tricky. When he did sign, he used 'Jno Dempsey', 'J. Dempsey' or simply 'J.D.'. At least two printed trade labels, both using more or less the same text, have been seen: one used whilst in Liverpool, the other later when he was settled in Bristol.
By the 1851 Census, Dempsey has diversified yet again and is supplementing his income by tinplate working and employing two men. He and his wife are lodging with a retired tinplate worker who, it must be assumed, had initiated him in this new trade. Success was short-lived, however, as by 1853 he is once again listed in the directories simply as an artist.
His Later Years
The advent of photography would have inevitably impacted his trade but, rather than be defeated by it, Dempsey embraced the new technology and re-invented himself yet again as a photographic artist (over-painting photographs probably) before finally getting behind the camera as a photographer.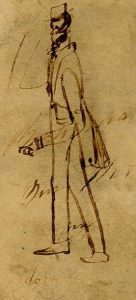 Dempsey's final Census appearance in 1871 sees him re-listed as an artist / landscape painter.
John Church Dempsey's death on 9 February 1877, at the age of 75, is announced in the Western Daily Press. His widow was thrown on hard times but outlived him by over twenty years being 92 when she died as an almswoman in Bristol in 1901.
For a man of humble beginnings, John Church Dempsey left a rich legacy of portraiture giving a rare insight into an often-overlooked class of society.
A more in-depth study of Dempsey's watercolour portraits is to be found in 'Dempsey's People' by David Hansen (Australian National Portrait Gallery, 2017).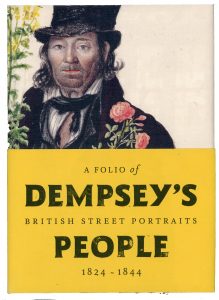 ---
© Wigs on the Green
Research assistance by B. Wellings