Amos Clitherall, Painter & Decorator
9th April 2021
Despite the continuing popularity of silhouettes during the first quarter of the nineteenth century, many profilists were not able to make a good living as artists and thus needed a second occupation. So it was with Amos Clitherall whose painted silhouettes have recently come to light.
The silhouettes are dated 1826 when Amos was 23 years old. They are neatly painted in black watercolour with grey highlights and tiny touches of gilding to bring out the hair and costume details. Both profiles have a distinctively rounded termination line. Strangely a duplicate pair of these silhouettes has been seen with a slightly different trade label –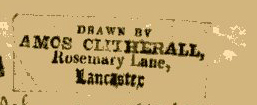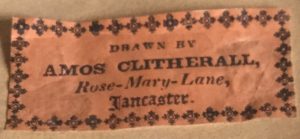 Amos spent his entire working life in Liverpool. He married Anne Baines in 1833 and with her had four children, one girl dying in infancy. Local directories list Amos Clitherall as a painter and wallpaper hanger initially based at Kent Square and then, from 1846, at Great George Street. It seems likely that he took over a family or existing business as the 1851 Census lists him as a 'Master Painter' employing 32 men. No wonder he no longer had the time or inclination to paint silhouettes!
Amos died in April 1860 at the age of 57 leaving a widow and three unmarried children. Both his sons, Richard and Amos, were by then trained painters and wallpaper hangers so they would have been able to take over the business.
Given the competency of these silhouettes and the existence of printed trade labels, it seems strange that further examples of his work have not (yet) come to light. Should any reader have in their collection any profiles by Amos Clitheroe, please do get in touch.